01.03.2023
In collaboration with Ngün Nieup Collective, Errant Journal is happy to welcome you to an evening about Berlin's self-determined spaces and communities, from Barackia to OPlatz. During this event, organised in the context of our latest issue States of Statelessness, Saskia Köbschall will expand on her research and the essay she wrote for Errant, after which Muhammed Lamin Jadama will share his experience as part of the OPlatz movement.
Location: Göttin de Weisheit, Berlin. The bar and Gambian kitchen are open from 17:00, DJ Muha (WeAreBornFreeRadio) will be spinning tunes after the event :).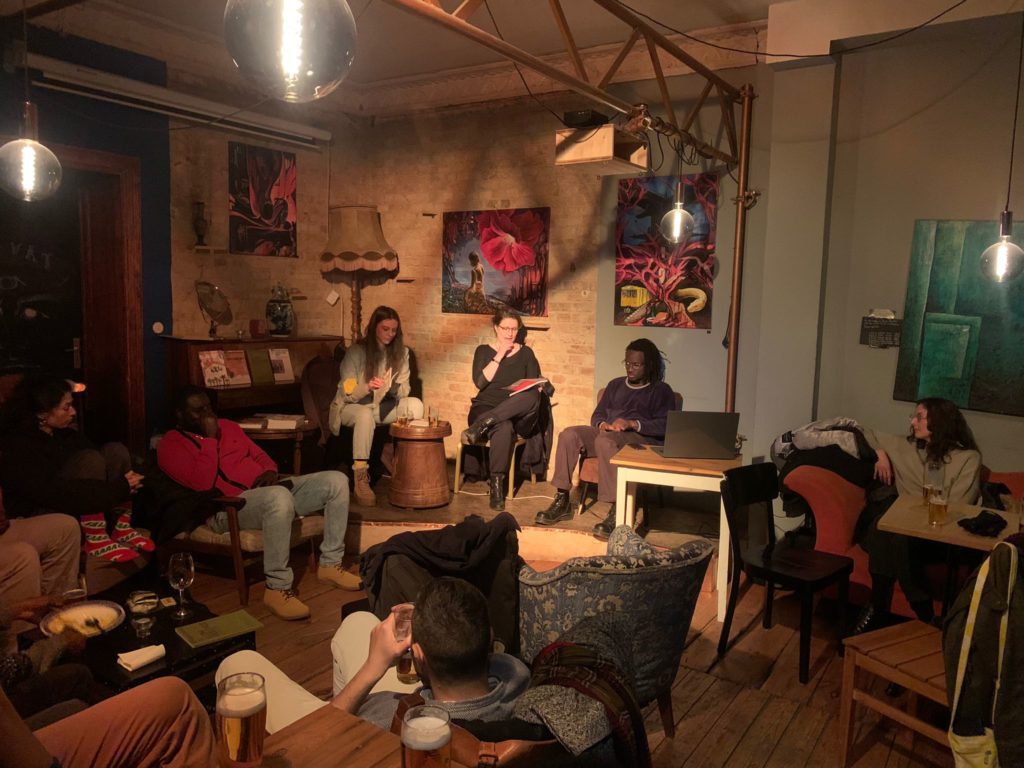 ---
27.11. 2022
On 27 November Errant Journal took part in De Beurs van Bijzondere Uitgaven (The Fair of Special Publishers) at Paradiso in Amsterdam. Errant was represented by Jesse Presse.
---
12.11. 2022
Launch Errant Journal No. 4 States of Statelessness, Saturday 12 November 4-6 pm at Framer Framed in Amsterdam.
Framer Framed and Errant Journal are happy to invite you to the launch of Errant's 4th issue States of Statelessness. This issue focuses on the harmful fiction of the nation state and celebrates alternative forms of solidarity and community-building. For the launch, editor-in-chief Irene de Craen will be joined by select contributors to give an introduction to the issue.
---
09.10–23.12.2022
Errant Journal is part of GAK's programme publics&publishings; a range of contributions dedicated to spaces both as frameworks for activity and as normative codings, speaking to and with art in different ways. At the same time, the platform will discuss and negotiate questions of plurivocal publishing. For the duration of the programme, the space in Bremen is converted to a temporary bookstore where Errant Journal is sold (among others). On December 16, Errant editor-in-chief Irene de Craen will give a presentation.
---
06.08.2022
Saturday 6 August from 7 pm, we have a little launch party at Hopscotch Reading Room in Berlin for our friends, friends of friends and anyone else who'd like to drop by. Hopscotch is the English language bookstore in Berlin centering non-western & diasporic perspectives.
---
17.07.2022
Books Are Bridges Art Book Fest is organized by the lovely Printroom in Rotterdam. A playful Art Book Fest with over 30 international and local artist publishers, who present their new work and that of others at the site of the community gardens in Rotterdam-West. Errant is represented there by Jesse Presse.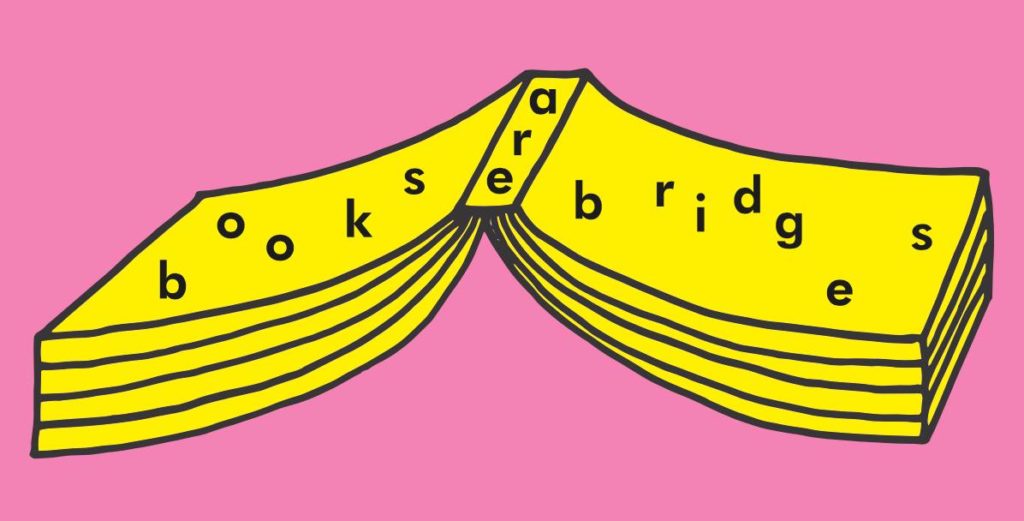 ---
29.04.2022-01.05.2022
Errant Journal is very happy to take part in Miss Read in Berlin! Drop by at HKW to see us and 300+ other publishers, art periodicals and artists/authors. Entrance is FREE. Click here to listen to the interview with our editor-in-chief on Miss Readio.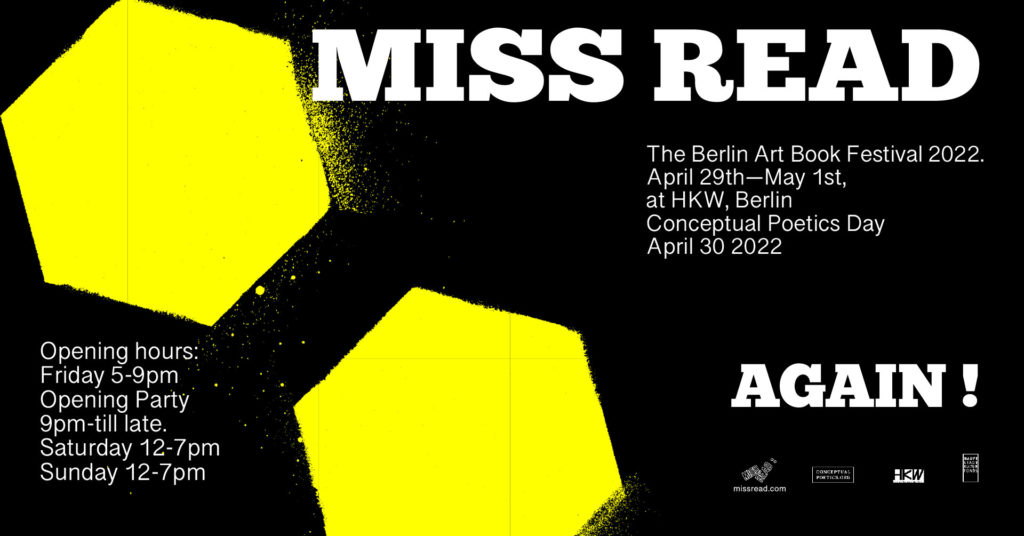 ---
28.04.2022
During the AICA Salon titled 'Wie maakt er nog nieuwe tijdschriften?' (Who still makes new magazines?) Errant editor-in-chief Irene de Craen has been invited to discuss Errant Journal.
---
21.04.2022
Errant Journal is part of Il Gazzettino, Via Garibaldi, Venice. Organized by Studio Lukas Feireiss & Friends.
As an uninvited and unofficial event on occasion of the 59th International Art Exhibition La Biennale di Venezia, a small kiosk is transformed for one afternoon only, into a discursive platform for indie magazines and artist publications from around the world. Located right between the two main exhibition venues – the Giardini and the Arsenale – the newsstand "Il Gazzettino" on the lively Via Garibaldi becomes an informal meeting place to get together, discuss, exchange and connect. The project is a celebration of self-published printed matter and an ode to the urban typology of the kiosk as a democratic space for the dispensation of knowledge and information.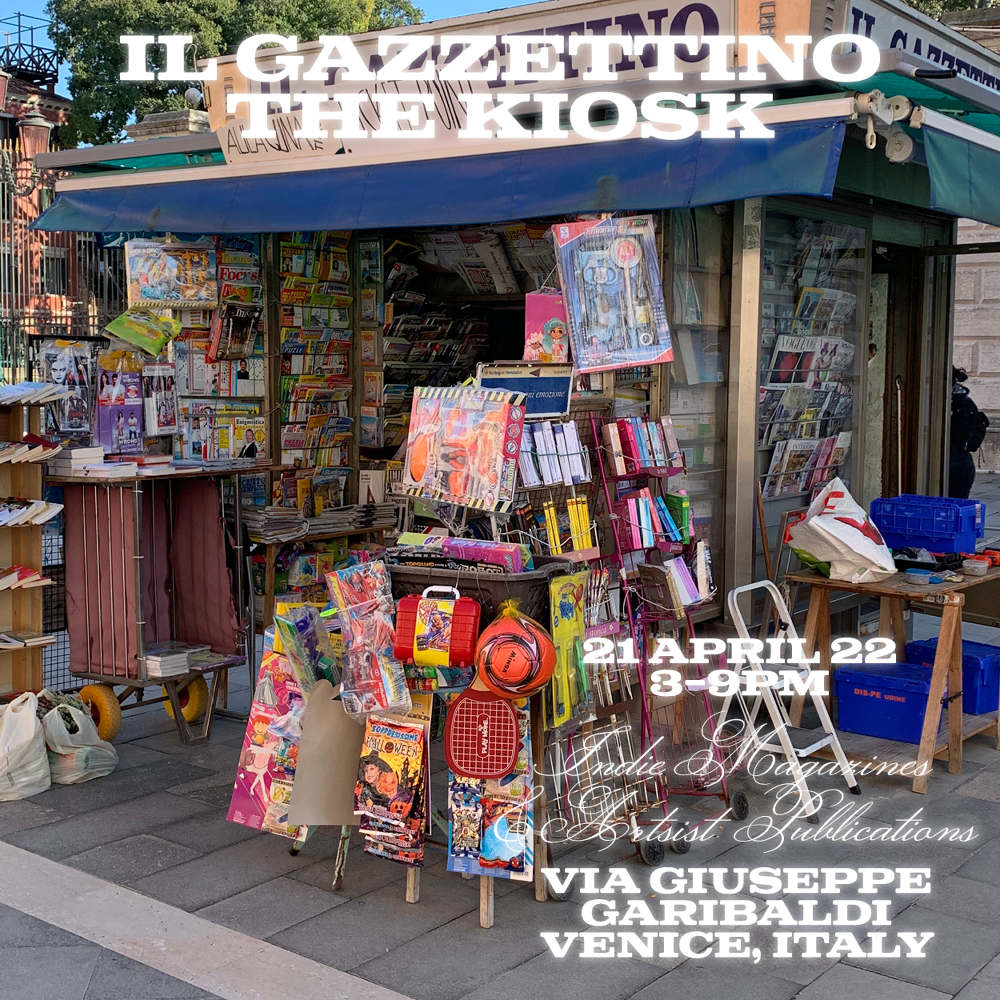 ---
09.04.2022
Launch Errant Journal #3 on DISCOMFORT, Saturday 9 April 4-6 pm at Framer Framed in Amsterdam.

Framer Framed and Errant Journal are happy to invite you to the launch of Errant's third issue on DISCOMFORT. This issue begins from the understanding that feelings of discomfort often reveal the boundaries of power relations in our societies. For the launch, editor-in-chief Irene de Craen will be joined by contributors Maaike Hommes and M.C. Julie Yu to give an introduction to the issue.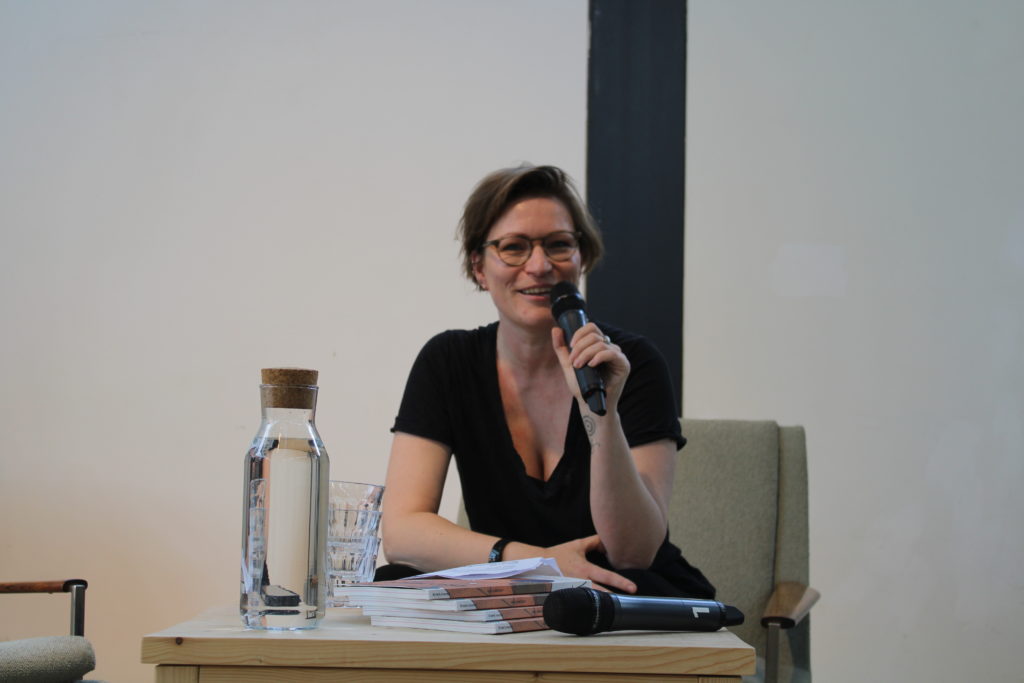 ---
19.08.2021
Errant Podcast on Radio Alhara, every 3rd Wednesday of the month, 2.30 pm Bethlehem time.
Radio Alhara is a communal online radio station that broadcasts from Bethlehem, Ramallah, Amman and other places to the world. Founded at the beginning of the pandemic by Elias and Yousef Anastas, Yazan Khalili, Saeed Abu Jaber, and Muthanna Hussain. The radio is a platform through which the community of the producers and listeners explore the rich terrain of sound. We host live and recorded music sets by a continually expanding roster of amateur and professional DJs, composers and sound artists, and broadcast soundtracks, audio documentaries and essays, conversations and interviews, podcasts, poetry, speeches, movies but also any and all sounds that pique our curiosity and further our appreciation for listening. At Radio Alhara, we want to carve out a sonic space that fosters experiences of collective listening and exchange and have fun doing it. It's a communal media that dimensions that distance between the producers and the listeners.
---
15.08.2021
We are very happy to announce that our friends at Hopscotch Reading Room in Berlin are organizing a Publishers' Fair and Errant Journal has been invited to join. The fair will host various small and micro publishers who constitute the invaluable independent publishing ecology of Berlin. Come and meet publisher friends, artists, artist-publishers, and acquaintances based mostly in Berlin and its environs, who will be selling publications in Hopscotch's hof. The bar will be open with their regular drinks as well as a special cocktail. There will also be delicacies from their local Indian Imbiss available for sale at cost.
See for more info Hopscotch's FB event.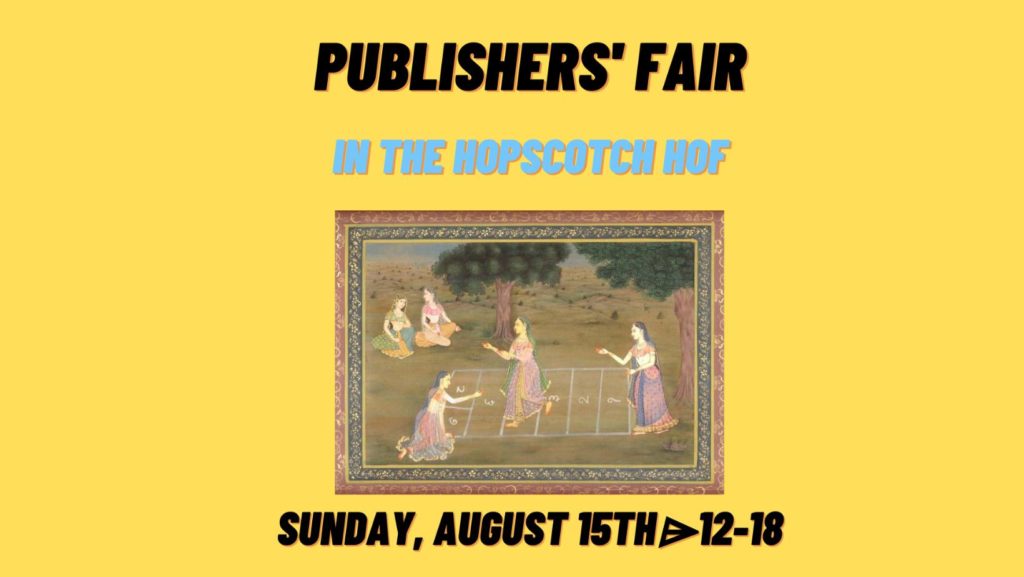 ---
21.07.2021
Crisis Imaginaries, Chapter 5: On Slow Violence and the Anti-Spectacle. With: Connie Zheng
This event, organized by Framed Framed and the Goethe-Institut Niederlande, begins from the question of representing slow violence, through discussing Connie Zheng's recent article for Errant's second issue — on aesthetic representations of environmental disaster ('Amidst slow violence: cascading reincarnations in Thao Nguyen Phan's Becoming Alluvium'). Thinking on the distancing, overwhelming effect of images of climate catastrophe so often plastered across media; what do these images do, and not do?
With this frame we turn toward Zheng's own practice, and specifically her work around seeds as speculative futures. Together, De Craen and Zheng will guide us in a screening of Zheng's film Seedtime (2020) and a discussion of anti-spectacular action and practice responding to climate collapse.
---
20.06.2021
Launch of Errant Journal #2 Slow Violence at Framer Framed in Amsterdam. With: Radha D'Souza, Jonas Staal, Aldo E. Ramos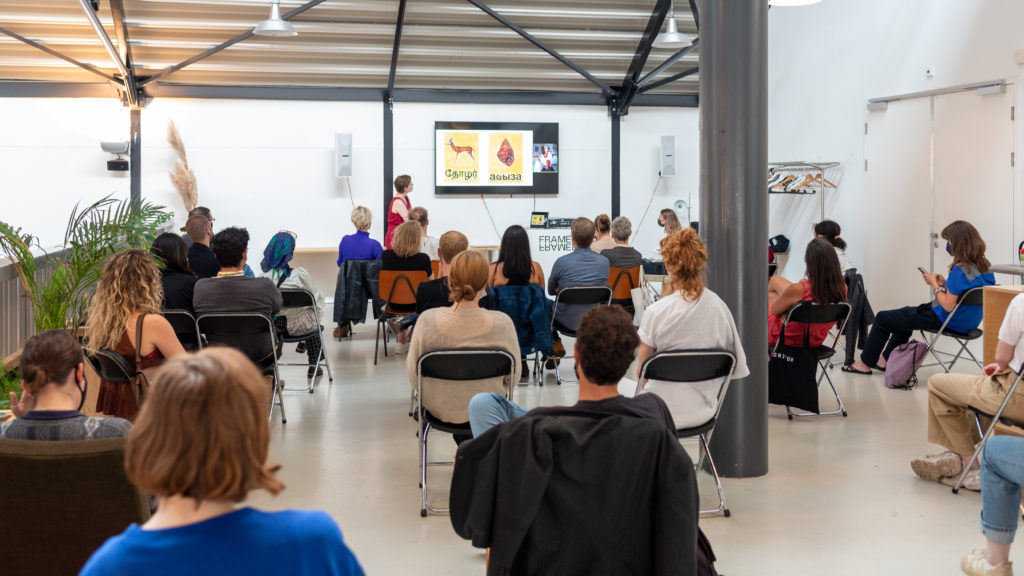 ---
27.11.2020
BOOKS with Errant Journal at Melly (FKAWdW) on November 27, 6 pm CET. With: Irene de Craen, Rajkamal Kahlon, Narda Alvarado, and Mark M. Smith, moderated by Vivian Ziherl.
---
12.9.2020
Launch of Errant Journal #1 at Framer Framed in Amsterdam. With: Lara Khaldi, Rolando Vazquez and Irene de Craen.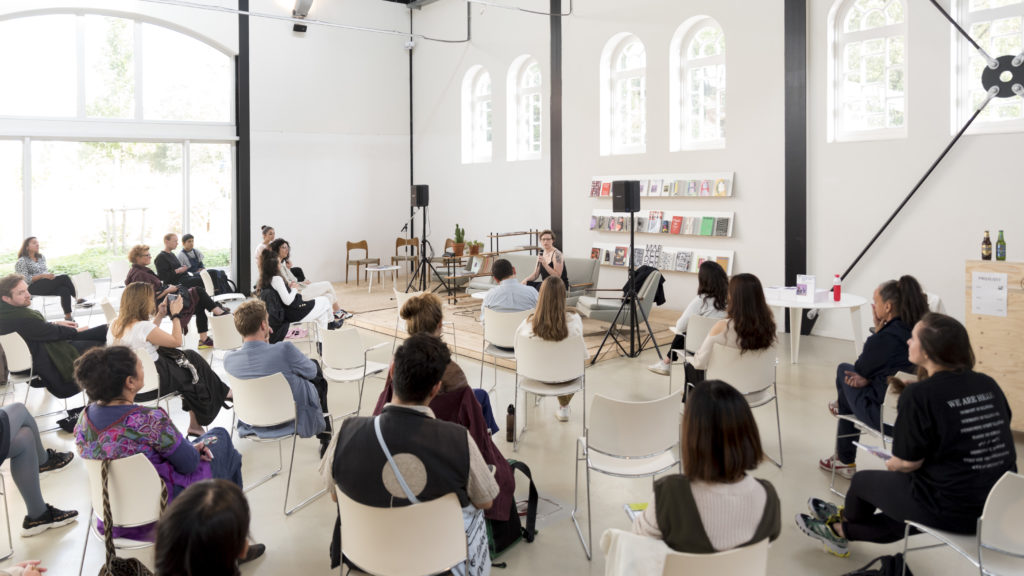 ---
11.5.2020
Errant Journal has been invited to be a guest resident at the Rijksakademie van Beeldende Kunsten in Amsterdam from 1 July till 31 December 2020. Errant's HQ will temporarily be located there where we will work on the 2nd issue on Slow Violence.
---
23.3.2020
Due to the corona virus, we have decided to postpone the launch of Errant Journal's first issue. For everyone out there: take care and stay safe!
Note: to keep posted, subscribe to our newsletter, or follow us on Facebook or Instagram.